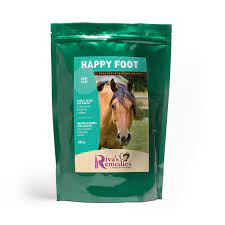 Riva's Remedies Happy Foot - 500g
Formulated in response to requests from hoof trimming specialists who prefer a natural approach to pain and discomfort. Promotes circulation, mobility and healthy hoof action.
Beneficial for: Circulation, Mobility & Lamina
Directions: 1-2 Tbsp daily (Start with one tsp daily and increase gradually.)
Ingredients: Dandelion Root, Oatstraw, Cayenne Pepper, Celery Seed.
---
We Also Recommend