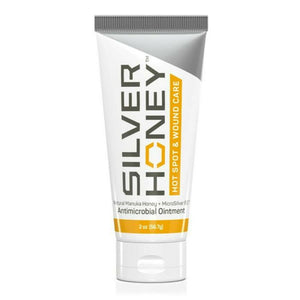 Absorbine Silver Honey Ointment
The first product to combine the natural power of Manuka Honey and MicroSilver BG, Silver Honey Hot Spot & Wound Care heals wounds rapidly and provides long-lasting protection all while being gentle on skin. Proven to stop 99.9% of bacteria immediately to start healing faster, its revolutionary formula uses the pure strength of Mother Nature's strongest antimicrobials to stimulate the body's. Immune response to shed dead tissue and grow new. Effective on hot spots, dermatitis, cuts, abrasions, and sores.  Soothes skin, reducing the desire to bite and scratch. Bitter flavour prevents licking.
Providing long-lasting broad spectrum antimicrobial action, MicroSilver BG is made up of pure medical-grade silver particles. The particles stay on the surface of the skin instead of being absorbed into the body, and protects from unwanted germs while boosting the skin's natural defences and maintaining the skin's beneficial flora. Manuka Honey is gathered exclusively from the pollen of the Manuka tree of New Zealand, distilled and condensed into an ultra potent, medical-grade form. Only Manuka Honey has the exceptionally high antibacterial activity necessary for rapid healing. All while maintaining a hydrated and healthy wound environment. 
Wound Care Ointment Proven To Stop 99.9% Of Bacteria
pH Balanced
Stays In Place
Moisturizes and Softens Older Scabs
Touch-Free Application

Ideal For Treating Larger Areas
Soothes Skin To Reduce Desire To Bite And Scratch
Bittering Agent Prevents Licking
---
We Also Recommend