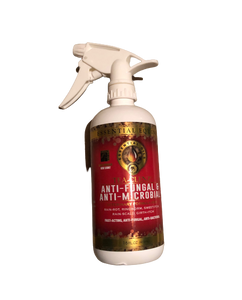 Essential Equine Tea-Clenz Spray
Treatment of various horse skin conditions like Rain-Rot, Ringworm, Sweet-Itch, Rain-Scald, Girth-Itch.
- With Tea Tree Oil
- Fast-acting, Anti-fungal, Anti-bacterial
- pH Buffered for horse's skin & hair

- Promotes regrowth of hair

- Works within 3 applications 

- Also cleans tack, blankets, brushes

- 473 ml (16 oz)
With High Grade Essential Oils Formulated by a Veterinarian

Essential Equine Products are the first to perfect the 'science' of combining proven naturopathic ingredients and remedies with powerful pharmaceutical agents. These high grade essential oil based remedies are quick acting and effective yet not harsh or painful to your horse.
---
We Also Recommend