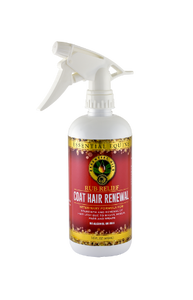 Essential Equine Rub Relief Spray
For regrowth and renewal of hair lost due to masks, hoods, pads and wraps.

Whether your mane mare is a show horse or she's your favourite trail rider, you can help revive a patchy coat with Essential Equine Rub Relief Horse Coat Hair Renewal. It's designed to aid in the growth and renewal of hair that's been irritated by masks, hoods, pads and wraps. The formula also helps soothe their sensitive skin—perfect for those patchy areas caused by rubbing. Application is a cinch—simply apply one or two times a day, no rinsing needed. And it's easy to access those hard-to-reach spots with the spray bottle that can be used upside down.
- Proprietary Blend of Conditioners, Emollients, Antimicrobials and Nature's Best          Soothing Agents

- No Alcohol or Wax
- Easy application—no rinsing needed.
---
We Also Recommend