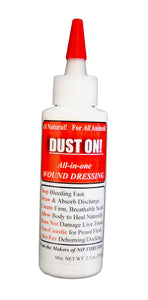 Dust On All in One Wound Dressing Powder
DUST ON! is designed to rapidly stop bleeding and discharge from open wounds, aid against infection, and it creates a breathable protective scab. Before first use, wipe away debris and cleanse if needed. Let area dry, then just DUST ON! Thereafter, dust 1-2 times per day. Since there is no washing required after the first use, application only takes seconds per day - saving hours of time during total treatment period.
Using DUST ON! on indoor pets means that you won't have to protect your carpets and furniture from greasy creams and sprays (or kick the pet outside because he has his "medicine" on his coat.) 
DUST ON! is All Natural. A pet can lick the powder, but normally they will not because it tastes terrible.
DUST ON is safe to use for both small scrapes and deep punctures or skin tears. The formula protects against infection, absorbs wound discharge, and allows natural healing without constantly removing scabs, as most "wet" products require.

* Stops Bleeding Fast
* Draws and Absorbs Discharge
* Creates Firm, Breathable Scab
* Allows Body to Heal Naturally
* Does Not Damage Live Tissue
* Non-Caustic formula for Proud Flesh
* Also for Dehorning and Docking.
           
---
We Also Recommend