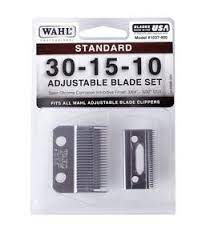 Wahl Adjustable Blade Set 30-15-10
Fits Wahl adjustable clippers.
Product Overview
Wahl's Standard Adjustable Replacement Blades are for use on the Wahl U-Clip, Deluxe U-Clip, Pro Ion, Show Pro Plus, and Iron Horse clippers.
The adjustable taper lever makes it easy to adjust to the desired blade size. 
Product Applications
Ideal for clipping and trimming on all animal coats - including dogs, cats, horses, and livestock. Perfect for full body clipping, complete shave downs, and show cuts.
---
We Also Recommend