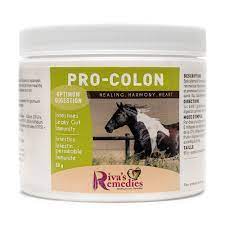 Riva's Remedies Pro-Colon
A pre and probiotic blend formulated for horses to balance the microbiome. Promotes healthy digestion, nutrient absorption, and intestinal immune function. This is a high quality product which is free of preservatives and refrigerated for maximum potency.
Beneficial for: Intestinal Immune System and Digestion
Directions: 1/4 tsp (one gram) daily as needed for optimum digestion. Keep Refrigerated.
Ingredients: Per ¼ tsp dose: Acidophilus (24 billion CFUs), Bifido bifidum (24 billion CFUs), Fructooligosaccharides (250 mg)
---
We Also Recommend