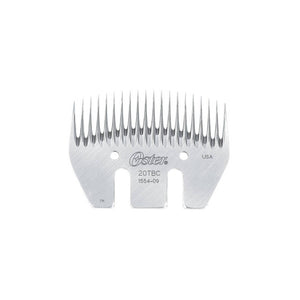 Oster Cryogen-x Blocking Comb
Suitable to use with Oster ShowMaster or ShearMaster clippers with 3" head for trimming, blocking or carving.
All of Oster® blades are put through a 12 step process guaranteeing quality and craftsmanship. We start with a fine-grain carbon steel that is heat treated to create a hard surface for greater wear resistance, leveraging a Rockwell Hardness Rating of 62. Our patented Cryogen-X™ process takes the blades down to a -300 degrees for a deep freeze, producing a harder, sharper blade which extends the product life. Each blade is then hand lapped for a smooth cut finish.
For trimming, blocking, and carving
For use on the 3″ shearing head and professional hand pieces
For use on all Hand Pieces and 3″ Shearing Head
Stays sharper longer
20 tooth comb
---
We Also Recommend