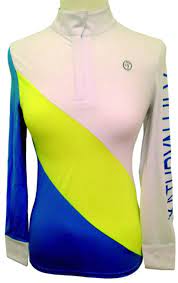 Kathryn Lily Colour Block Shirt
Made from Kathryn Lily's ProAir Fabric, this shirt is cut and tailored in all the right places to present as an all white show shirt underneath a show coat or shadbelly!
Stain resistant, super stretchy and breathable, it's the perfect choice for your Sunday classics or any day around the barn for a flattering style! The Tuxedo Block shirt features netted underarms, zip snap collar and snap up sleeves.
ProAir stretch fabric
Light weight, breathable & wicking
Signature snap-up sleeves
Zip/Snap collar
Kathryn Lily embroidery on back
Kathryn Lily logo on left front
Snap-up sleeves
Please note bottom section is teal not royal blue.
Final sale item.
---
We Also Recommend