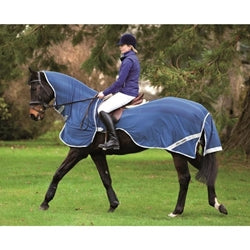 Horseware Amigo Fly Rider
Keep those flies away whilst riding with this great Amigo Fly Rider sheet by Horseware Ireland.
--
The Amigo Fly Rider is an innovative new sheet that offers fly protection while you are in the saddle. Safe and secure, this rug is easy to fit and easy to remove. The Fly Rider will keep flies off your horse's body while you are riding. Lightweight and cool, this sheet is contoured to fit around the saddle and has a shaped area for the rider's leg. Features loop on top of neck hood to coonect to the bridle, bungee tail cord, and reflective strip for safety and visibility. Extra space in the hood allows for flexion during exercise.
---
We Also Recommend