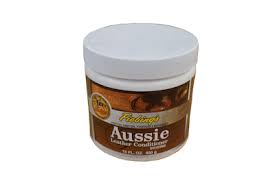 Fiebing's Aussie Leather Conditioner
Fiebing's Aussie Leather Conditioner beautifies, conditions, strengthens, and waterproofs smooth leather in one quick step. Specifically designed to help leather withstand bitter cold and extremely hot climates. May darken some light colorued leather. Contains natural Beeswax. Perfect for use on saddles, tack, boots, gun cases, and handbags.
Directions: For best results, clean leather article thoroughly with Fiebing's Saddle Soap. Then apply a light coat of the Aussie Leather Conditioner with a clean cloth. Allow product to penetrate. Buff off excess of if desired. A second coat may be necessary on very dry leather.
400 grams.
---
We Also Recommend