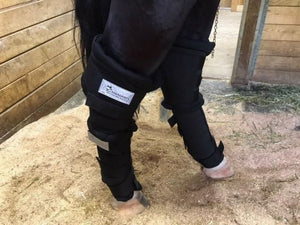 Canadian Horsewear Quick Wraps
After a trial run of 500 pairs, Canadian Horsewear have made several construction upgrades to the 2021 version of their quick wraps.  Heavy duty velcro and overall more durable build quality will allow these boots to take a beating.  
Using state-of-the-art ceramic infused fabric, Canadian Horsewear is proud to enter the Quick wrap market. Our Quick wraps are made with a polyester thread embedded with a fine ceramic powder. Designed to reflect the horse's own body-warmth, it creates a soothing far infrared thermal heat, which can help alleviate pain associated with inflamed muscles, ligaments, tendons and joints. These wraps will quickly become a favorite to help with injury prevention as well as injury recovery. The Quick Wrap is designed to be used instead of standing bandages. Before we went into production, we researched different manufacturers of Ceramic materials. Each batch is tested by a third party to ensure raw material consistency. Using the same determination that built our blanket business, our goal is to offer our clients a high quality product at a reasonable price. Instructions for Use: Our leg wraps should be introduced gradually, only applied for a maximum of 4 hours per day for the first 2-3 days. After that, it is recommended to keep them on overnight. Caution should be used during the first 2-3 days as excessive use from the outset may cause legs to "fill up" due to increased blood circulation. However, this is a good sign of efficacy. Please note that physical responses can be variable. Often you will notice a reduction of puffy or sore joints within a few hours or days. Occasionally however, you will need to persevere for 10 days to 30 days, particularly with established long-term injuries.
To find your size, measure just below the knee to pastern
35 cm - Small
40 cm - Medium
45 cm - Large
---
We Also Recommend